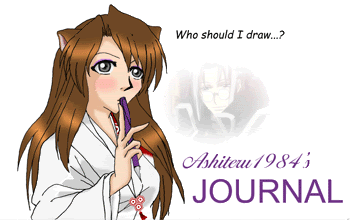 Kiriban
I know I am late in letting you all know that

caught my kiriban. I will get started on your request as soon as I can.
Live Death Note Movie
On Wednesday, I had the privalege of being able to see the live-action Death Note movie. It was totally awesome! Sadly, my boyfriend and I got lost and missed the first 40-45 minutes of the movie.

I thought the actor who played Raito(Light) Yagami was cute.

Ryuk was awesome-looking too. The actor who played L was good too and was good comic relief through it all. It's sad I have to wait until September to buy the movie and watch the first 40-45 minutes that I missed.

Unanswered Comments, and +Favs
I apologize for not getting around to answering all of the comments I have received over the past *cough*few years*cough* or so. I have over 500 comments to go through that have probably been sitting in my inbox since 2005.

I am thinking about deleting a lot of them and answering the ones that I have conversations going on or questions that need answered. I do want to thank all of those who comment on my pictures and journals and say that I appreciate all of them, even though I haven't had a chance to answer all of them.
I would also like to thank all of those who have

ed my deviations. Also I am so excited that my picture of Sakura has received so many views, comments, and +fav:s. Thank you so very much.



Thank you to those who have +devWATCHED me

yet to post name
Avatar
~SPOILER WARNING~ Well, I gave in to temptation and watched the Season 3 teaser trailer for Avatar.

OMGosh! ZUTARA!!!

I can't
wait
until July when the rest of the season will air! I have also fell into temptation and watched the end of "Western Air Temple" as well as a few of the other scenes from that episode.

~END SPOILER~
Prayers of Joys and Concerns
:
I have recently become more involved in my church, and my love and faith in God and Jesus has grown. So this is where I will put prayers of joys and concerns for my family, friends, and myself. Those who wish for me to pray for them, feel free to note or email me
.
Joy – That my life is beginning to go in the direction I have been waiting a long time to happen.
























Happy June Birthday to

3
!
Moonglare
8
~
VegaSailor
9
~
zuko-gaara-lover
18
~
mikomi-285
28
~
DracoKanji
29
~
Dark-Youkai-Kyoto
30
~
shessyluvsrin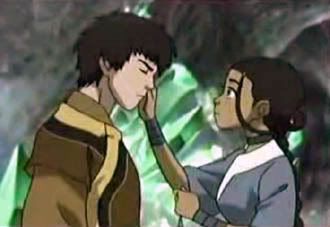 I will forever have this in my journal to show how much of a devoted Zutara fan I am and the fact that I still believe in Zuko.

- Sister

+deviantSISTERS

























+deviantBROTHERS





My Good deviantFRIENDS
deviantCLUBS
People on +deviantWATCH
People +deviantWATCHing Me
Requests/Drawings
Drawings Done for Me
My Friend's Birthdays
About Me
My Anime Awards
:thumb63673411:
:thumb28890077:
:thumb51175719: :thumb47530209: :thumb33082137:
:thumb41685329: :thumb59792489: :thumb61168571:
:thumb58790029: :thumb56218917: :thumb34894270:
:thumb38659279:
:thumb70512350: :thumb52676435:
:thumb77701874:
:thumb69006560:
:thumb52668417:
Other Sites I Am On
:
daa^3
fanfiction.net
LiveJournal
myOtaku.com
SheezyArt.com
Xanga.com