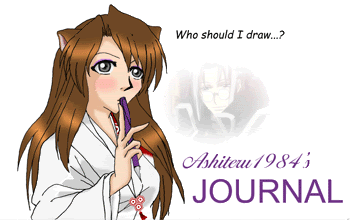 Tag found in

journal.
100 Truths
001. Real name → Erika.
002. Nickname → Kaze.
003. Status → In a relationship.
004. Zodiac sign → Pieces.
005. Male or female → Female
006. Elementary → Done
007. Middle School → Done
008. High School → Graduated in 2002
009. Smart → Uhh...I think I'm pretty ditsy...

I ask stupid questions and get teased by family members about it...
010. Hair color → Dirty blonde/Light brown (I did have it dyed a darker brown to cosplay as Momo Hinamori, but my roots have come back in and there is a LOT of red left in my hair...)
011. Long or short → Long. It is passed halfway down my back.
012. Loud or Quiet → Quiet.
013. Sweats or Jeans → Jeans.
014. Phone or Camera → Phone.
015. Health freak → Not really...

I really should be though...
016. Drink or Smoke? → On occassion I will have a little something to drink, but I'm not that partial to it.
017. Do you have a crush on someone? →

I do and I love him so much and wouldn't trade him for the world.
018. Eat or Drink → Eat...

019. Piercings → I used to have my ears pierced, but my ear lobes swelled and I had to take them out. I wanted to wear my mom's jingle bell earrings too...

020. Tattoos → Uh...I don't think so... I don't really have an interest in getting one either.
FIRSTS:
023. First piercing → Ears.
024. First best friend → Allison, my sister. She was my first best friend is still my best friend to this day.
025. First award → I won second place in a poster contest when I was in 5th grade. I can't remember if I received an awards before that though.

026. First crush → Anthony or Jason, I forget which one, but they were both in school with me in preschool/kindergarten.
027. First pet → MY first pet was my bunny Sugar, but our first family pet was Cody. He had to be put down two years from yesterday (October 13)...

028. First big vacation → Disney World with the marching band.
030. First big birthday → 16th My mom threw me a surprise birthday party after school. It was awesome!
CURRENTLY:
049. Eating → Nothing.
050. Drinking → Nothing.
052. I'm about to → Check the rest of my dA messages, repeat the current song playing in my CD player, go to bed, and watch TV until I fall asleep.
053. Listening to → Naruto Shippuuden music.
054. Plans for today → Try to figure out the headache which is FTPing a website for my online class, go out with my boyfriend for the evening.
055. Waiting for → Wednesday when I will see the second live-action Death Note movie, The Last Name.

YOUR FUTURE:
058. Want kids? → Two or three depending on how many the person I marry would like to have.
059. Want to get married? → Yes, I do.
060. Careers in mind → Graphic Designer, gift wrapper (person paid to wrap other people's presents), animator, etc.
WHICH IS BETTER WITH GIRL/BOY?
068. Lips or eyes → Eyes.
070. Shorter or taller? – Taller.
072. Romantic or spontaneous → Romantic, most definately. I'm a hopless romantic at heart.


073. Nice stomach or nice arms → Hm...good question...I dunno...nice arms I guess...to

me with.
074. Sensitive or loud → Sensitive.
075. Hook-up or relationship → Relationship.
077. Trouble maker or hesitant → Hesitant.
HAVE YOU EVER:
080. Lost glasses/contacts → Yeah...

Like I wore them anyway...
081. Ran away from home → Maybe...? I can't remember.

084. Broken someones heart → Yeah, once.
085. Been arrested → Heck no!
087. Cried when someone died → Yes, for my grandma and grandpa. I also tend to cry when I hear or when I sing "Amazing Grace." The song always reminds me of my grandma.
DO YOU BELIEVE IN:
089. Yourself → Um...I dunno... Isn't that sad...?

090. Miracles → Yes.
091. Love at first sight → I do. My boyfriend and I both believe that it was love at first sight when we met. Even though he was dressed as Inuyasha.

092. Heaven → Yes.
093. Santa Clause → I used to, but go along with it for the little cousins.

I do believe in good people wanting to give to others out of the kindness of their heart and wanting to make a difference.
094. Sex on the first date → No! I believe you should wait until, at the earliest, your wedding night and with the person you love and care about.
095. Kiss on the first date → On the cheek maybe, but not "tonsil hockey."

ANSWER TRUTHFULLY:
097. Is there one person you want to be with right now → Yes.
098. Are you seriously happy with where you are in life → No, not really. While I am happy with who I am with, I wish to be thinnner, eatting healthier, be done with school, and get a job.
099. Do you believe in God → Yes, I do. I attend church mostly every Sunday and sing in the choir, praising His name and worshiping Him.
100. Post as 100 truths and tag →































Happy October Birthday to

3 ~
unsungmelodyxo
11 ~
bb234
18 !
DaRkCoUnTeSsB
18 ~
inuyasha666hiei
20 ~
kagomedemon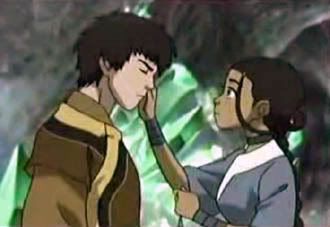 I will forever have this in my journal to show how much of a devoted Zutara fan I am and the fact that I still believe in Zuko.

- Sister

+deviantSISTERS

























+deviantBROTHERS





My Good deviantFRIENDS
deviantCLUBS
People on +deviantWATCH
People +deviantWATCHing Me
Requests/Drawings
Drawings Done for Me
My Friend's Birthdays
About Me
My Anime Awards
:thumb63673411:
:thumb28890077:
:thumb47530209: :thumb33082137: :thumb59792489:
:thumb61168571: :thumb58790029: :thumb56218917:
:thumb34894270:
:thumb38659279:
:thumb52676435:
:thumb77701874:
:thumb52668417:
Other Sites I Am On
:
daa^3
fanfiction.net
LiveJournal
myOtaku.com
SheezyArt.com
Xanga.com